Camps Bay Beach
Discover the beauty of Camps Bay Beach, where sea, sand, and sun combine for the perfect vacation experience for the whole family.
Nestled between Table Mountain and the Atlantic Ocean, Camps Bay offers breathtaking views and endless entertainment.
Immerse yourself in the stunning scenery and lounge on the wide white beach, regarded as one of Cape Town's top spots to catch a mesmerizing sunset.
Choose from an array of luxurious villas that cater to groups of all sizes. However, it's recommended to book early if you want to secure a place near the beach.
Don't miss out on this picture-perfect destination that locals and visitors alike adore.
Why Visit Camps Bay Beach?
Experience the awe-inspiring beauty of Camps Bay Beach, where the Atlantic Ocean meets the majestic Twelve Apostles of Table Mountain. This upscale area is a place you won't soon forget, with stunning sea and mountain views at every turn.
Camps Bay Beach itself is a major attraction, boasting a wide expanse of golden sand, lined by a lush lawn and Miami-style palm trees. Visitors flock from all over to witness the breathtaking sunsets that paint the sky from this picturesque beach. Additionally, Glen Beach, nestled between granite rocks on the
Clifton
border, offers a popular surf spot for adrenaline seekers.
But
Camps Bay
has much more to offer beyond its beaches. Adventure enthusiasts can indulge in outdoor activities, while shopaholics can explore the vibrant retail scene. And when it's time to unwind, there is no shortage of restaurants and bars that transition seamlessly from daytime eateries to trendy nightlife hotspots.
The cherry on top is the availability of luxurious apartments and villas for short-term rentals, allowing visitors to enjoy all the spoils of Camps Bay just like the locals do. Don't miss out on the unforgettable experiences that await you in this magnificent destination.
Best Time To Visit Camps Bay Beach
When planning your visit to Camps Bay Beach, it's helpful to consider the weather patterns in the Western Cape. Summers are characterized by dry heat, resembling a Mediterranean climate, while winters are moderate with some rainfall. From December to February, you may encounter windy conditions, but don't worry - neighboring Clifton offers wind-free beach options.
Keep in mind that
Cape Town
offers a plethora of exciting activities beyond its stunning
beaches
, making it challenging to pinpoint the best time to visit. Nature lovers will find springtime particularly enchanting, as the floral kingdom bursts into full bloom, creating a vibrant display of colors. On the other hand, those seeking beach adventures might prefer the hotter summer months, when the weather is perfect for swimming, sunbathing, and engaging in water sports.
Whether you're captivated by the beauty of nature or eager to soak up the sun on the sandy shores, consider your personal preferences when deciding on the ideal time to experience the wonders of Camps Bay Beach.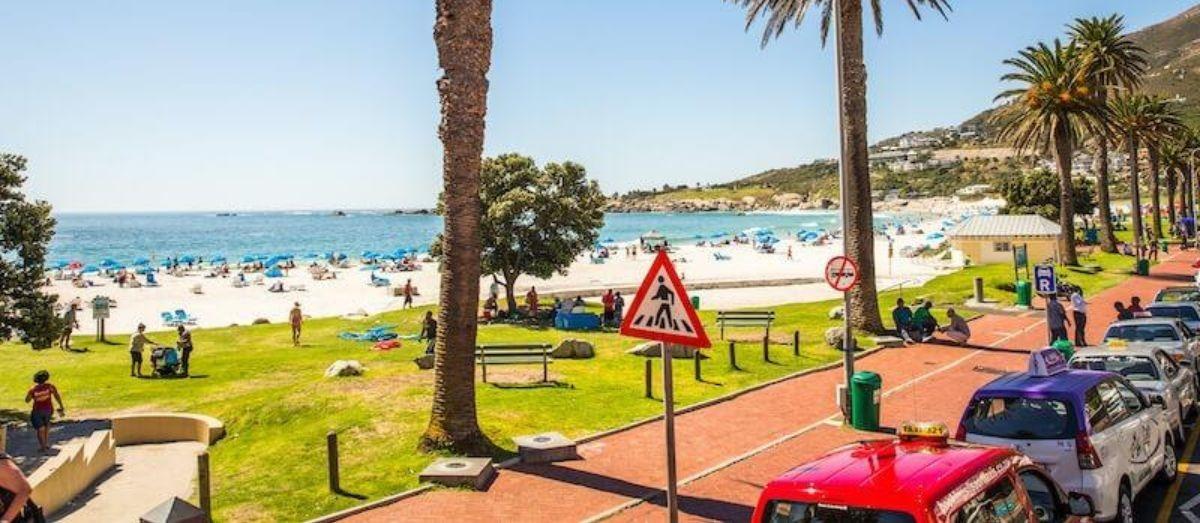 View of Camps Bay Beach from Victoria Road
Plan Your Holiday To Camps Bay
When it comes to planning a memorable family holiday, location is key. Booking self-catering beach accommodation in Camps Bay ensures you'll have a stunning sea view and easy access to the beach. Not only that, but Camps Bay also offers all the amenities you need within close reach.
The Promenade, a small shopping mall, has everything you could require during your stay. It features a well-stocked local supermarket, a pharmacy, and doctor's rooms. Additionally, you'll find a hairdresser, beauty salon, deli, and a variety of other retailers, making it convenient to meet your everyday needs.
When it comes to dining and enjoying a drink, Camps Bay has no shortage of options along Victoria Road. Indulge in a sunset cocktail at one of the trendy spots, while you watch the sun dip below the horizon, setting the stage for an exciting evening in Camps Bay.
For entertainment, be sure to visit Theatre on the Bay, an intimate local theatre that offers a lineup of interesting shows. Including a visit to the theatre during your stay adds a touch of culture and entertainment to your Camps Bay experience.
One of the advantages of Camps Bay is its central location. Just a quick 15-minute drive north along Victoria Road will take you to
Sea Point
Promenade and the vibrant
V&A Waterfront
. If you venture over Kloofnek Road, you can easily reach the Table Mountain Cableway for breathtaking views. Head south along Victoria Road, and you'll have the opportunity to explore
Hout Bay
,
Constantia's wineries
, and the stunning Southern Peninsula. The nearby Cape Winelands towns of Stellenbosch and Somerset-West are also within a 45-minute to an hour's drive from Camps Bay.
With its beautiful surroundings and convenient proximity to various attractions, Camps Bay is an excellent choice for a fun-filled holiday that the whole family will enjoy.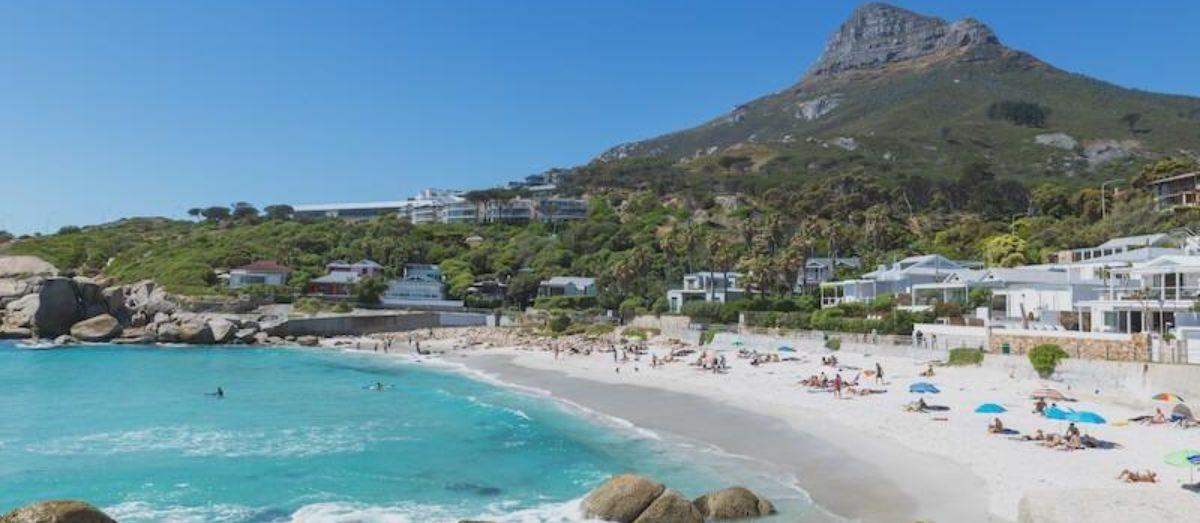 Camps Bay Beach with Lion's Head in the background
Fun Activities Around Camps Bay
Table Mountain, recognized as one of the New 7 Wonders of Nature, is an absolute must-see when visiting Cape Town. Outdoor enthusiasts can spend a day
hiking
up the mountain, taking in breathtaking views along the way. For those who prefer a more leisurely experience, there is a restaurant atop Table Mountain where you can relax and enjoy a delicious meal while soaking in the stunning scenery. The Table Mountain Cableway offers a convenient and safe option for non-hikers to reach the summit.
Cape Town is a haven for shoppers looking for unique and original finds. Explore local markets, galleries, and retailers to discover one-of-a-kind arts and crafts. For those interested in fine jewelry, reputable jewelers offer exquisite South African gold and diamonds.
Food and wine lovers will delight in Cape Town and the
Cape Winelands
. This region is not only known for its exceptional wine production but also boasts numerous award-winning restaurants. Indulge in exquisite flavors and culinary experiences that will leave your taste buds wanting more.
Sports enthusiasts are drawn to Cape Town for its wide range of outdoor activities. Whether you're into surfing, kite surfing, swimming, diving, road and trail running, cycling,
horse riding
on the beach,
quad biking through vineyards
, or even adrenaline-pumping adventures like
Scootours
,
zip-lining
, and
hiking
trails, Cape Town has something for everyone to enjoy during their visit.
Families visiting Cape Town
will find plenty of entertainment options suitable for children of all ages. Explore the historic significance of landmarks like Robben Island and the
Castle of Good Hope
, creating lasting memories for both kids and adults alike.
For those seeking a safari experience, Cape Town offers opportunities to witness incredible wildlife. From
whale watching
to meeting African penguins, Chacma baboons, and various species of antelope in local nature reserves, you can get up close and personal with nature. Additionally, within just a two to three-hour day trip, visitors can go on a
safari
and have the chance to spot Africa's renowned Big 5.
With its diverse range of activities and attractions, Cape Town offers an unforgettable experience for every type of traveler.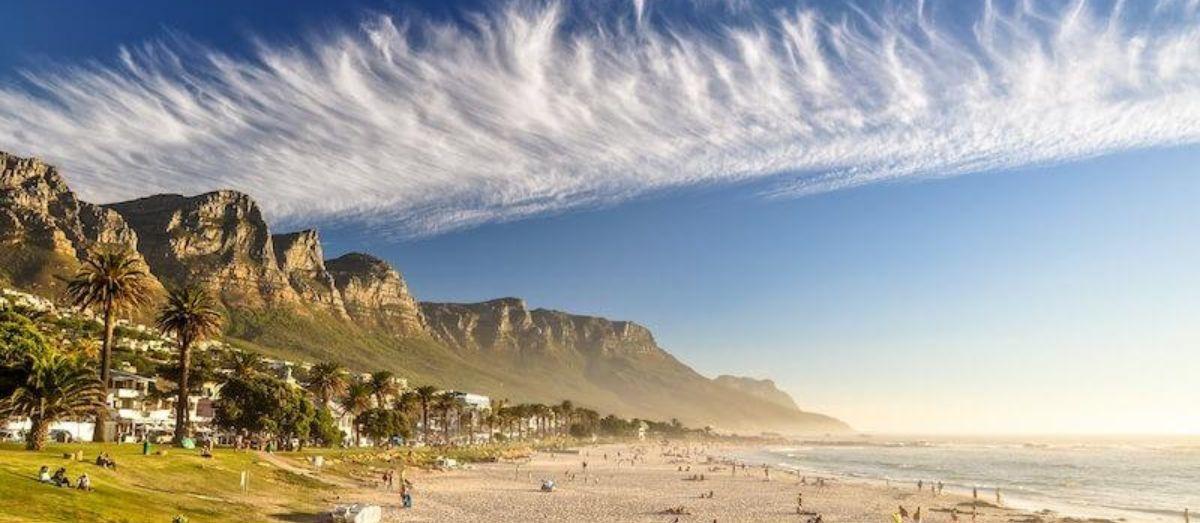 Places To Stay Near Camps Bay Beach
In Camps Bay, you'll find a wide variety of accommodation options conveniently located near the beach. Whether you prefer hotels, bed and breakfast establishments, or self-catering villas and apartments, there is something to suit every traveler's needs.
Our portfolio of
upmarket accommodations
is particularly ideal for families seeking privacy, ample space, and luxury conveniences. With 24/7 concierge services, you can rest assured that your needs will be taken care of during your stay. If you prefer a self-catering experience, our rentals near Camps Bay Beach offer the perfect solution for a carefree vacation in Cape Town.
Safety is a top priority for us. That's why many of our holiday homes feature state-of-the-art security measures to ensure the well-being of our guests. Additionally, we provide valuable safety tips to tourists, ensuring that they can enjoy a fun and incident-free holiday in Camps Bay.
When it comes to choosing the perfect accommodation for your stay, rest assured that our options provide comfort, convenience, and peace of mind for an unforgettable vacation experience.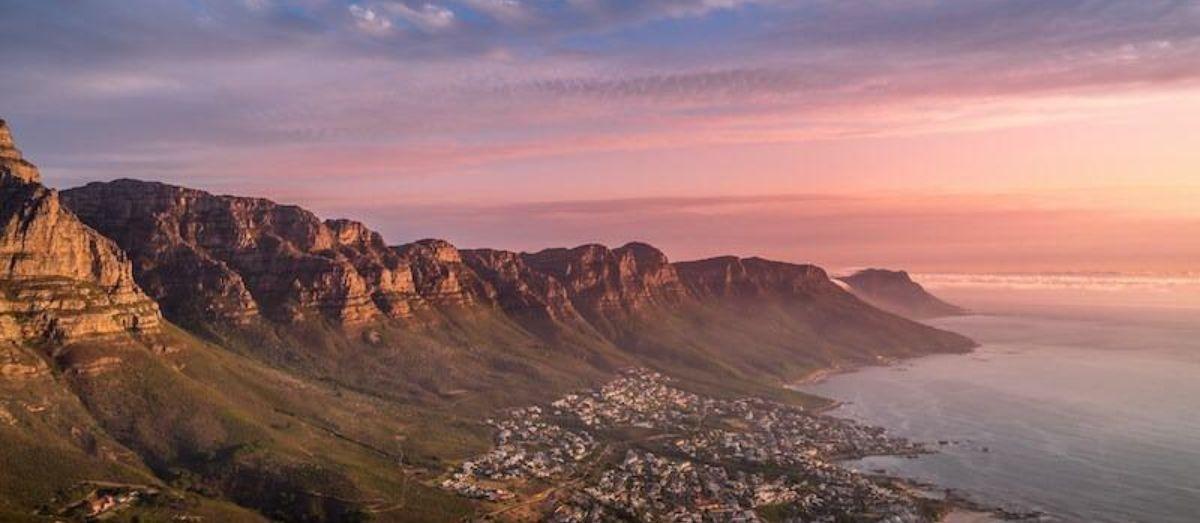 View of Camps Bay Beach from Lion's Head at sunset
Will You Be Seen On Camps Bay Beach?
Visit Camps Bay for a truly unforgettable holiday experience. With its stunning beach and breathtaking surroundings, your family is guaranteed to create lasting memories that will fill their photo albums.
When it comes to finding luxury accommodation near Camps Bay Beach, Nox Cape Town is the expert you can rely on. Our team of area specialists can assist you in finding and booking the perfect accommodation for your stay. Explore our portfolio of exquisite seaside rentals and start planning your trip to Cape Town with confidence.
Ready to start planning your trip?
Find the answers to your travel-related questions in our handy, one-stop Cape Town holiday planning hub – complete with info-packed guides and resources that will make planning your visit a breeze. Take a look
here
.