Day trip to the Cape Winelands
Are you dreaming of visiting wine country? A day trip to the Cape Winelands is well within reach of holidaymakers in Cape Town.

Did you know there is more to the wondrous Cape Winelands than just wine tasting and cellar visits?
Your day trips from Cape Town to the Winelands can be a wine and gastronomic tour, a wildlife safari, an outdoor adventure with action-packed activities, or it can simply be a day of children's entertainment and a relaxing picnic.
Get to know the Cape Winelands
The Cape Winelands is a vast area. You can make separate day trips from Cape Town to each of the different regions. Get to know one area at a time. Explore its unique wine farms, restaurants and activities.
Franschhoek
The beautiful Franschhoek wine valley nestles between dramatic mountains. The gourmet capital of South Africa is a 45-minute drive from Cape Town. Some of the country's best restaurants and chefs have found their home in this village. Award-winning wineries complete the picture. The Huguenot Memorial Monument in the town bears testimony to the arrival of the French refugees in the Cape between 1683 and 1756.
Paarl
The Boland town of Paarl is about a 40-minute drive from Cape Town. It has a rich history. Here you will find the "Afrikaanse Taalmonument" (monument to the Afrikaans language) next to the impressive Paarl granite rocks. Paarl, named from the Dutch word for pearl, found its name thanks to these huge rocks.
The Drakenstein Correctional Centre in Paarl has historical significance. That is the prison, previously known as the Victor Verster Correctional Centre, from where they freed Nelson Mandela in 1990. Top-quality Shiraz and Chenin Blanc grapes are grown in the Paarl region. These grapes sun-ripen in the hot valley. The Paarl region produced excellent quality olives and olive oil too.
Wellington
This town is the original valley of the wagon makers. French Huguenots settled here at the end of the 17th century. Wellington is about 45-minutes from Cape Town. It is an agricultural town known for its wine and table grapes, deciduous fruit and brandy industry.
The town leads to Bain's Kloof Pass, one of the country's oldest mountain passes. Wellington gained prominence thanks to the James Sedgwick Distillery's international success with Bain's Cape Mountain Whisky. This single grain whisky won the title of World's Best Grain Whisky, awarded in London in 2018.
Somerset West
This town is at the foot of the Helderberg Mountain. It originated as a cattle post established by Dutch soldiers in 1672. The town, about 35 minutes from Cape Town, developed around the Lourens River and the historic Cape Dutch farm Vergelegen. Somerset West is within easy reach of the beaches at Strand and Gordon's Bay.
Stellenbosch
Vineyards surround this famous university town. No wonder that wine tasting in Stellenbosch is a prevalent activity among students – and anyone visiting the area! This historic town is a 40-minute drive from Cape Town.
The 17th-century Governor of the Cape, Simon van der Stel, gave it its name. This busy little town is charming with oak-lined streets and Cape Dutch architecture.
Montagu
The small town of Montagu is on Route 62. It is about 180km from Cape Town in the western regions of the Little Karoo. Known for its hot mineral springs and scenic mountains, the farming area to the north of this town is the "Koo".
Excellent quality apples, pears, apricots and peaches are grown here. The rock formations around Montagu makes it one of South Africa's foremost rock climbing spots.
Robertson
Since 1853, the town of Robertson budded in its fertile valley of wine and roses. This town is 160km from Cape Town. Wine and fruit farming bloom in the area. It is also home to several successful racehorse stud farms. The town has many of the Western Cape's provincial heritage sites.
Worcester
This large town in the Breede River Valley is 120km northeast of Cape Town. Access from Cape Town is via the N1 and Du Toitskloof tunnel. It lies near the scenic Hex River Mountains. This town is home to the Karoo National Botanical Gardens. View flora unique to the arid regions of South Africa here.
Tulbagh
The charming town of Tulbagh lies in a basin fringed on three sides by mountains. It is 120km from Cape Town. The area, known as the Witzenberg Valley, has outstanding fauna and flora. Cape Dutch Architecture adorns the town streets. This town made it into South African history books in 1969 when an earthquake caused considerable damage.
Top ten things to do in the Cape Winelands
chances are you'll want to experience most of our top ten activities. So, while you're planning your holiday to Cape Town, allow enough time for a couple of day trips to the Cape Winelands.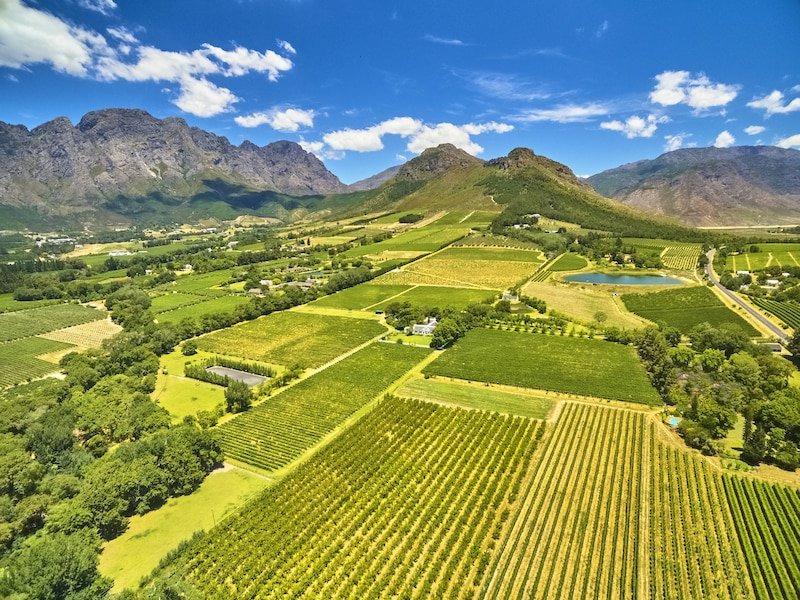 View of the Cape Winelands
1. Do wine tours and tastings
Wine tasting has to be at the top of the list. Do a self-drive wine tour or take a private tour to Stellenbosch. Visit unique wineries, from tiny boutique outfits to multi-national wine exporters. Many wineries offer food and wine pairings. These tasting treats can include chocolate and wine tasting or cheese and wine tasting. Wine tasting prices are affordable and often waived when participants buy some wine.
2. Go on gastronomic adventures
A culinary experience awaits at a myriad of restaurants in the Winelands. From traditional South African food, "boerekos" (old farm-style food) and braaivleis (barbecued meat) to French, Asian, Italian and Mediterranean cuisine. There are many places to eat in Stellenbosch.
3. Visit festivals on weekends
Festivals are big news in the Cape Winelands. Every weekend there are festivals in different towns, all year round. Look out for harvest festivals in February and March. You will find food and wine festivals, bubbly festivals, beer festivals, chocolate festivals and cheese festivals. There are also poetry and book festivals, fynbos festivals, flower festivals and various music festivals.
4. Explore nature
There are many adventurous things to do in and around Stellenbosch. Trail running and mountain biking are popular activities. The stunning natural scenery ensures plenty of mountain trails to discover.
5. Keep the kids entertained
Children's entertainment is big news in the Cape Winelands. Hazendal winery recently introduced Wonderdal, an interactive play centre for children. You can also visit Water Park in Strand, Gracelands Venue in Paarl and Bugz Playpark in Kraaifontein for a variety of fun water activities on hot days.
6. See uniquely African animals
Find an animal encounter at Vredenheim Animal Farm, Cheetah Outreach, Le Bonheur Crocodile Farm, Drakenstein Lion Sanctuary, Monkey Town, Giraffe House and Eagle Encounters.
7. Watch movies under the stars
Plan a romantic evening under the stars. During the summer months, The Galileo Open Air Cinema operates on different venues in the Cape Winelands.
8. Enjoy a day at a market
Visit the popular Root 44 Market, Blaauwklippen Family Market, Stellenbosch Slow Market and Vergenoegd Market around Stellenbosch. Somerset West brings you the Lourensford Harvest Market. The Franschhoek Village Market is on every Saturday, weather permitting. Wellington Farm Market is on the last Saturday of the month.
9. Traverse wine farms
Take a private tour to go horse riding or quad biking in the Paarl Mountain. Rhebokskloof wine farm is home to Wine Valley Adventures. Go for a romantic horse-drawn carriage ride and wine tasting through the vineyards at Vrede en Lust Winery.
10. Picnic in exquisite gardens
Picnics, farm stalls and gardens are some of the delights waiting in the Cape Winelands. Get your hands on locally produced delicacies. Arts and crafts are also available at farm stalls dotted along the Cape Winelands.
Recharge by spending your day in beautifully kept gardens. Enjoy a picnic on the lawn at Warwick or Delheim near Stellenbosch. We recommend a visit to Babylonstoren or Boschendal.
11. How about a bonus idea?
Take the Franschhoek Wine Tram from the Franschhoek Village to visit farms around the Franschhoek valley.
Best vineyards in the Cape Winelands
Recommend below are some of the best wine farms in the Cape Winelands. This is not a definitive list. We have narrowed it down to only five farms per area.
Discover and explore other worthwhile vineyards on your journey through the Cape Winelands with the help of this handy wine route guide.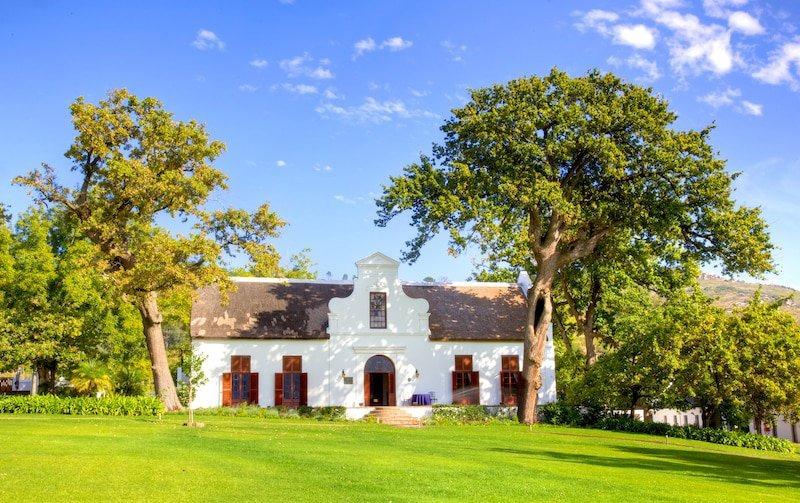 Franschhoek
Lynx Wine Estate
Black Elephant Vintners
Glenwood Vineyards
La Motte Wine Estate
Boekenhoutskloof
Robertson
Bon Courage Estate
Springfield Estate
Graham Beck Robertson Estate
Fraai Uitzicht
Zandvliet Wine Estate
Paarl
Landskroon
Spice Route Destination
KWV Wine Emporium
Avondale
Ridgeback Wines
Tulbagh
Saronsberg
Theuniskraal
Rijks Wine Estate
Lemberg Wine Estate
Waverley Hills
Somerset West (Helderberg)
Waterkloof Wines
Morgenster Wine Farm & Olive Estate
Rust en Vrede Tasting Room
Flagstone Winery
Journey's End Vineyards
Wellington
Diemersfontein
Imbuko Wine Cellar
Doolhof Wine Estate
Dunstone Wines
Linton Park Wines
Stellenbosch
Peter Falke Winery
Delaire Graff Estate
Tokara Wine Estate
Thelema Winery
Asara
Worcester
Aan De Doorns Wine Cellar
De Wet Cellar
Nuy Winery
Alvi's Drift
Eagle's Cliff Wines
Montagu
Cabrieres
Kranskop
Montagu Cellar
Drie Berge Winery
Kleinhoekkloof Wines
You'll want to return, often
You have all the information you need; now it's up to you to make it happen. Organise your day trip and discover why visitors to the Cape Winelands can never get enough. But be forewarned, there is not nearly enough time in one day to do and see everything on offer. Thus, there is always a bunch of good reasons to return to the beautiful Cape.
We hope exciting day trip options like this will ensure that you put a trip to Cape Town on your bucket list. And with that, book your luxury accommodation with Nox Rentals.