Simon's Town – Laid-back living near Cape Town's navy base
Step into the allure of an old-world era in Simon's Town, a tranquil town boasting a picturesque harbour and historic naval base. Plan your holiday in this enchanting destination.
Simon's Town welcomes you with its rich offerings for both visitors and holidaymakers. It proudly hosts the South African Navy's Naval Base, where impressive battleships and even submarines find their haven in the suburb's harbour. Ideal for couples and families seeking laid-back living, Simon's Town is a favoured holiday destination. Its inviting atmosphere and serene backdrop create the perfect escape.
Named after Dutch Governor Simon van der Stel, who led the Cape Colony in the late 17th century, this suburb holds historical significance. With over two centuries as a naval base and harbour, Simon's Town boasts a rich heritage. Nestled at the southernmost tip of Cape Town's eastern side, Simon's Town graces the bay with its presence. The bay's natural harbour faces north into the captivating waters of False Bay.
Reaching Simon's Town from Cape Town's CBD is a breeze, taking approximately 45 minutes by car. A short 20-minute drive lands you in Noordhoek on the Atlantic Ocean side, while Constantia's historic wineries are just half an hour away. Extend your journey by 10 minutes to reach the Atlantic Oceanside gem of
Hout Bay
.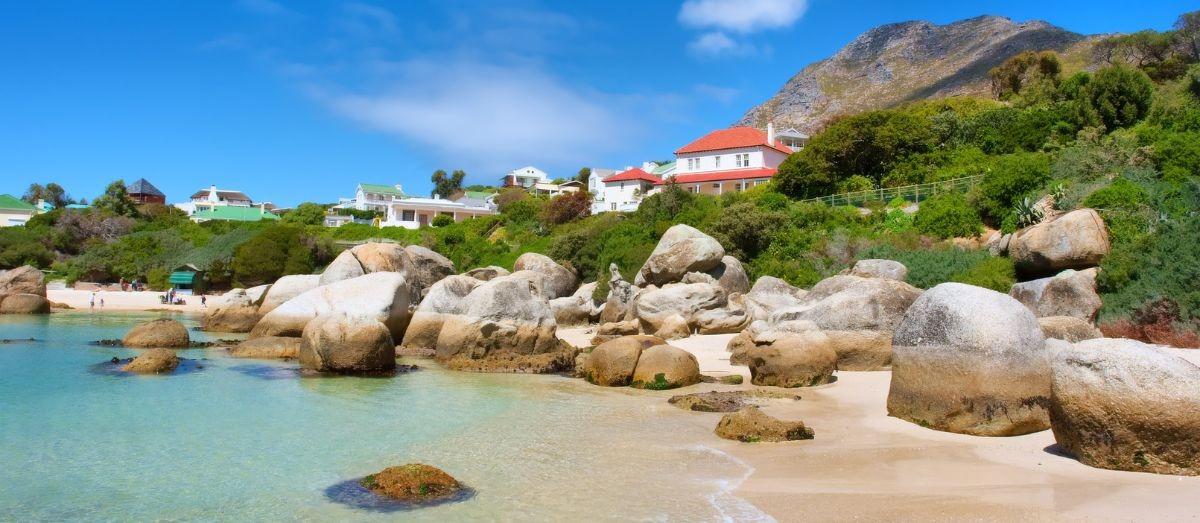 Attractions In Simon's Town
Simon's Town, nestled in the Western Cape, boasts a myriad of attractions for holidaymakers to enjoy. Discover a diverse range of activities and sights that promise an unforgettable experience. As you plan your adventure, be sure to include these unique spots in your itinerary:
South African Naval Museum
Immerse yourself in the history of the South African Navy at the Naval Museum. This captivating destination offers insights into maritime heritage and naval operations.
Just Nuisance Statue
Capture a memorable moment with the famous Just Nuisance statue in Jubilee Square. This larger-than-life sculpture pays homage to the only dog ever enlisted in the Royal Navy, a beloved figure in Simon's Town's history.
Simon's Town Museum
Don't miss the opportunity to explore the Simon's Town Museum, a treasure trove of historical artifacts and stories that illuminate the town's vibrant past.
Boulders Beach African Penguin Colony
Witness the charm of the African penguin colony at Boulders Beach, a captivating attraction within South African National Parks' Table Mountain National Park. Interact with these delightful creatures in their natural habitat.
Quaint Shops and Craft Market
Indulge in retail therapy at Simon's Town's quaint shops and boutiques. Additionally, mark your calendar for the craft market held on the second Saturday of each month at Jubilee Square, where you can discover unique handcrafted treasures.
Martello Tower
Travel back in time at the historic Martello Tower, an architectural marvel built in the late 18th century. Originally a navigational aid for ships entering the harbour, the tower has been meticulously restored and stands as a provincial heritage site, complete with a charming museum.


Activities In Simon's Town
For active individuals and families seeking adventure during their Simon's Town getaway, a wealth of activities awaits. Alongside these engaging pursuits, you'll also find a variety of excellent dining options to satisfy your appetite. Enhance your holiday experience
here
.
The Scratch Patch & Cave Golf
Marvel at the dazzling gemstone collection at the Scratch Patch, where you can also purchase exquisite jewels, engage in cave golf, and let your children select semi-precious stone treasures from the outdoor area.
Harbour Dining and Penguin Visit
Enjoy a delicious meal at one of Simon's Town's harbour restaurants before embarking on a memorable visit to the penguins at Boulders Beach.
Scenic Coastal Exploration
Jog, cycle, or leisurely stroll along the picturesque coastal road. Take advantage of the convenient pedestrian path, complete with benches for resting along the way.
Golf at Simon's Town Country Club
Tee off at the historic Simon's Town Country Club, founded in 1913 and the sole 9-hole club on the Cape Peninsula.
Aquatic Adventures
Discover the Cape Boat and Ski-Boat Club nestled in Simon's Town, offering paddle skiing and kayaking facilities for a remarkable experience on the waters of False Bay.
Family Beach Time
Unwind at the nearby Fish Hoek beach, a family-friendly haven with dedicated lifeguards ensuring safety during the summer months.
Smitswinkel Bay
Venture to the stunning Smitswinkel Bay along the coastal drive between Simon's Town and the Cape Point Nature Reserve. Although there is no direct road, you can park along the coastal drive and descend the steep footpath to reach the beach.
Scuba Diving
Dive into the popular world of scuba diving, where Smits reef boasts five shipwrecks intentionally sunk by the Navy in the 1970s.
Millers Point Tidal Pool
Experience a refreshing swim at Millers Point tidal pool, equipped with an exciting waterslide for children. Situated just 5km south of Simon's Town, this spot is part of the scenic Table Mountain National Park.
Black Marlin Seafood Restaurant
Indulge in a delectable meal at the Black Marlin Seafood Restaurant while soaking in the captivating surroundings at Millers Point.
Offshore Sportfishing Charters
Embark on an unforgettable fishing adventure with Offshore Sportfishing Charters. The area is renowned for its exceptional Yellowfin Tuna catches, offering an exciting challenge for fishing enthusiasts.
Exploring Cape of Good Hope Nature Reserve
Immerse yourself in the wonders of the Cape of Good Hope Nature Reserve, where a host of captivating experiences await:
Visit Cape Point, accessed via the Flying Dutchman funicular, and witness the meeting point of the Indian and Atlantic Oceans.
Explore various short walks and hiking trails that traverse the beauty of Cape Point.
Enjoy a leisurely picnic at Bordjiesrif Picnic Site and Tidal Pool.
Dive into history by visiting the Dias Cross and Vasco da Gama Cross, commemorating the intrepid Portuguese seafarers who first explored the Cape.
Discover the splendor of Buffels Beach, one of Cape Point's top beaches, offering both scenic picnicking and nearby tidal pools.
Reach Dias Beach, perched against towering cliffs, via a rewarding 20-minute wooden walkway descent.
Wander to the Cape of Good Hope Old Lighthouse, a historic structure that has guarded ships against treacherous waters since 1860. Experience breathtaking panoramic views from this iconic vantage point.
Experience Simon's Town in all its beauty and diversity, with countless activities to create cherished memories during your stay.
Accommodation In Simon's Town
When it comes to accommodation in Simon's Town, you'll find an array of luxury self-catering options tailored to your preferences. From expansive apartments to generous homes, these lodgings cater to couples, families, and larger groups.
Rest assured that this charming suburb provides all the essential amenities in close proximity, ensuring convenient and hassle-free self-catering.
B&Bs and hotels are also available for short-stay visitors. These would suit guests who do not require much space and the privacy and flexibility afforded by self-catering rentals.
Weather In Simon's Town
Experience Simon's Town's inviting climate year-round with warm averages of 20.0°C in February and 12.8°C in July. Embrace summer's balmy charm from November to February, seek refuge from the South Easter wind at the sheltered Boulders Beach, and enjoy the warmer Indian Ocean waters. Discover autumn's outdoor allure from March to May, relish the cozy months of June to August with whale sightings and wine by the fireplace, and welcome spring's bloom and penguin chicks from September to November. Simon's Town offers captivating escapes in every season.
Escape To Simon's Town
Simon's Town is a great getaway. It offers a "small-town" type of Cape Town experience. It is still within easy reach of regular
Cape Town
highlights. But, life is slower in the Deep South. Discover a place where there are no shopping malls or big-city noise. Enjoy watching the twinkling lights around the beautiful bay at night. Be at peace in this holiday destination with a difference.
Ready to start planning your trip?
Find the answers to your travel-related questions in our handy, one-stop Cape Town holiday planning hub – complete with info-packed guides and resources that will make planning your visit a breeze. Take a look
here
!