Llandudno – Lazy days on Cape Town's exclusive little beach
Nestled in a private cove on the Atlantic Seaboard is Llandudno, one of the Cape Town suburbs with the most exclusive residential properties in South Africa.
This quiet suburb without streetlights, shops, and commercial activities is positioned between Camps Bay and Hout Bay, only 18km from the city centre on one of South Africa's most scenic ocean view drives. Llandudno's breathtaking beach is surrounded by large granite rocks and is a popular surfing spot.
Exclusivity is the word in Llandudno and there is just one access road into the little seaside hamlet, guarded by the Twelve Apostles on the Table Mountain range on one side and Little Lion's Head and the Karbonkelberg Mountain of Hout Bay to the other side.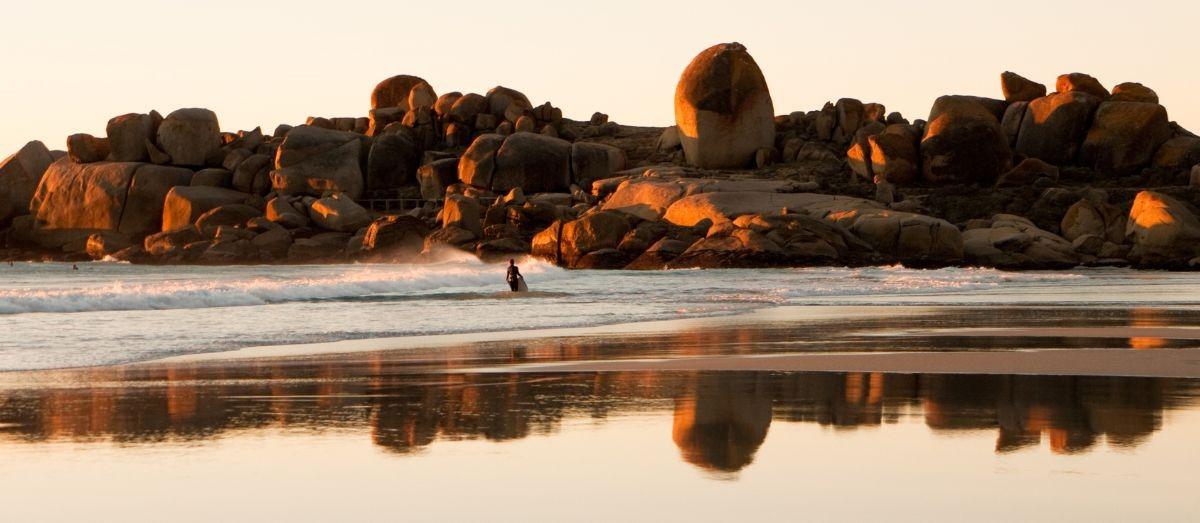 Your Holiday In Llandudno
The white sandy beach of Llandudno is a favourite spot for beach sports such as volleyball and beach rugby. The Atlantic water is cold and quite treacherous, but lifeguards are on duty during the hot summer months. Surfers hone their aquatic skills in Llandudno while sunbathers enjoy the views and families pack picnics to enjoy on the unspoiled beach.
Luxury Accommodation In Llandudno
Llandudno boasts exclusive properties, offering breathtaking sea views from its luxurious self-catering holiday accommodations. These fully equipped living spaces, with vistas stretching over the sea and mountains, create the ideal setting for at-home entertainment.
Self-Catering Holiday Villas
With the western-facing position that you will enjoy on the deck of your self-catering villa in Llandudno, sundowners form an important part of the daily routine. Toast the setting sun over the Atlantic Ocean with your accompanying guests and enjoy the space and exclusivity afforded by your luxury self-catering holiday villa.
Things To Do In Llandudno
While Llandudno offers a quiet retreat, you are never far from the action and a short drive will take you to all the amenities and activities necessary for a jam-packed holiday.
Beach
Llandudno has a small but beautiful unspoiled beach where you can catch the sun and take a dip in between the boulders in the icy ocean. If you are looking for an overall tan, the famous Sandy Bay nude beach is a 20-minute walk from Llandudno.
Surfing
A favourite spot for surfers who enjoy breathtaking nature, Llandudno is prone to rough seas and not suited to beginners.
Sports
Enjoy being active on the beach and take part in beach volleyball or beach rugby while on holiday in Llandudno. The access road to this seaside town leads off the major cycling route between
Camps Bay
and
Hout Bay
and offers easy access to the spectacular Chapman's Peak. Local operators will deliver a bicycle for you to rent during your Llandudno stay.
Restaurants, Bars, And Clubs
The fishing village of Hout Bay is an easy five-minute drive from Llandudno. It features a handful of good restaurants and bars. The Hout Bay harbour is also a favourite spot for fresh fish and seafood. Camps Bay is home to lively nightlife and plenty of restaurants, bars, and clubs and is only a 15-minute drive from Llandudno.
Wineries
A scenic 20-minute drive from Llandudno through Hout Bay over Constantia Neck delivers visitors to Constantia – where Cape winemaking has its origin. Constantia has a number of esteemed wineries where visitors can taste wine and book lunches and dinners at award-winning restaurants.
Botanical Garden
The Kirstenbosch National Botanical Garden is well worth a visit and a 25-minute drive from Llandudno. View the wonderful diversity of the Cape's indigenous fynbos and plants on the slopes of Table Mountain.
Mountain Walks
Hike up Table Mountain while on holiday in Cape Town. You can summit from a variety of starting positions, depending on your level of fitness, to enjoy spectacular views from the top of the mountain. Any of these starting points are within a 15- to 25-minute drive from Llandudno.
Markets
When on holiday in Cape Town, shopping is always high on the agenda. The Bay Harbour Market in Hout Bay with arts, crafts, food, and entertainment is open on Friday early evenings and during the day on Saturdays and Sundays. The Koeël Bay market just outside Camps Bay is a favourite spot to acquire African hand-crafts and curios.
Llandudno Weather
Llandudno's warm, sandy beach is best enjoyed during the hot summer months, from December to February. The mountain that creates a buffer behind it protects Llandudno mostly from the South Easter summer wind. Perfect beach days may also enhance your holiday during March and April. The rainy season is in the winter and temperatures mostly remain mild.
Visit Llandudno
Come experience first-hand why this upmarket beachfront area fetches some of the highest property prices in Cape Town and the country. If you are ready to enjoy lazy days on Cape Town's exclusive little beach, book your Llandudno accommodation.
Ready to start planning your trip? Find the answers to your travel-related questions in our handy, one-stop – complete with info-packed guides and resources that will make planning your visit a breeze. Take a look here.