The FYI's of Travelling to South Africa
When travelling to South Africa for the first or umpteenth time, there are things that every visitor needs to know. Below is some important information from locals and the Department of Home Affairs. This information explains Visas, customs and boarder patrol, safety and more. The local tips are Cape Town based.
Information for all of South Africa
Travel documents: What do I need?
When travelling to South Africa, there are some important documents you will need to bring with you.
Passport – when travelling to SA on a foreign passport you will need to have at least one blank page in your passport for entry and exit visa stamps from SA immigration. Your passport must also be valid for a minimum of 30 days and be machine readable.
Valid return airline ticket
Health documentation (if required)
Which passports can enter South Africa without a visa?
Depending on the country of issue of your passport you are able to stay in SA without a visa for 30 or 90 days. Some countries however do require you to apply for and have a valid visa before entering SA. To see which regulation applies to you, visit the Department of Home Affairs website. If you do require a visa, you can apply at the South African embassy, mission or consulate in your country and be sure to have your valid passport and confirmation of your residential address while in SA.
Customs Guidelines: the do's and don'ts
When entering SA via any mode of transportation you will need to go through customs. If you have nothing to declare, you can go straight through the green line but below is a quick and easy infographic of the do's and don'ts.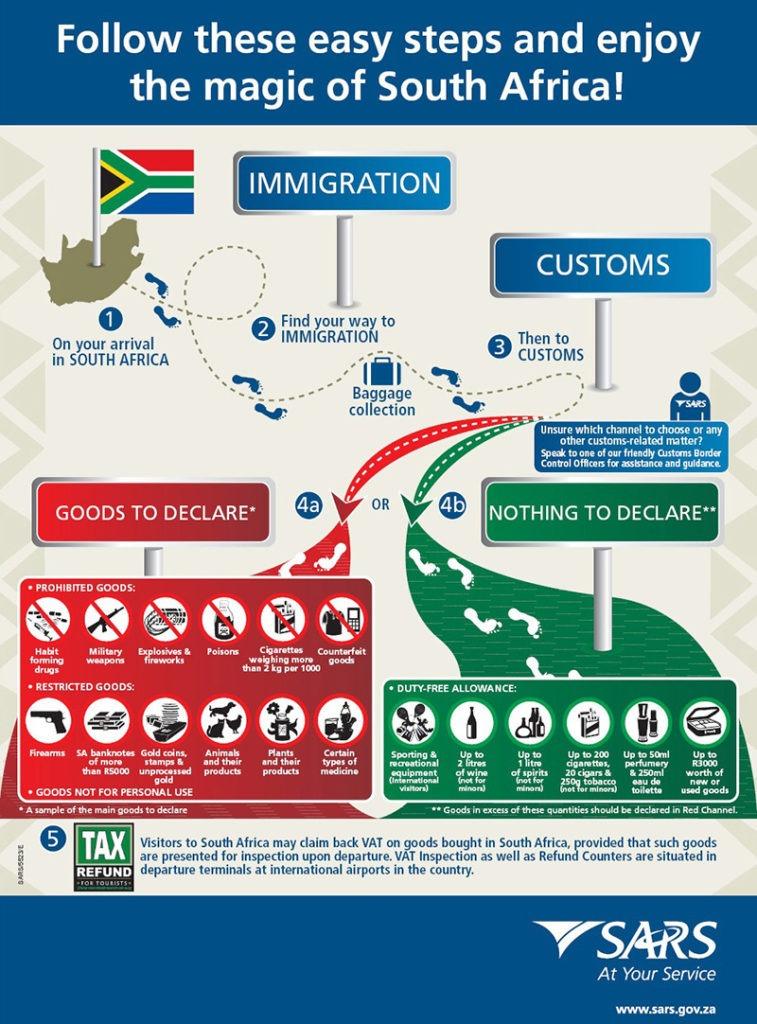 We recommend getting travel insurance to all visitors to SA. There is a good company called TIC (Travel Insurance Consultants),we refer clients to. You can visit their website here.
Power converters and adaptors
South Africa has two types of plug points, thick round three prong and thin round twin prong. We suggest that you purchase a worldwide adapter which are available in most airports and stores in SA.
The voltage of SA's plug points is 220/230 volts AC 50 HZ. If you require a different electrical supply, we do suggest you bring a converter with you or purchase one here in SA.
At Nox Rentals, we can provide our guests with these adaptors is needed.
There are no required vaccinations for entering SA. There are vaccinations available in SA should you require one. If you are coming to SA from a yellow fever area, a medical certificate of immunisation is required. You can read more about vaccinations here.
SA has quite a few local service providers but you can also activate your roaming if you are on an alternative service provider. This will incur additional and higher rates and charges. As you enter SA, you can easily purchase an SA sim card from local shops or at the airport, just be sure to have your passport and proof of address for while you are staying in SA.
Wifi is available in many cafes, restaurants and shopping malls.
As one of our many services, Nox Rentals offers Wifi to all our guests staying in our properties.
Credit cards, cash or travelers cheques?
Most international credit cards are accepted at businesses and restaurants in SA. There are also ATM's for cash withdrawals should you need cash. Be sure to check the service charges with your bank before making a cash withdrawal.
Bureau de Changes are located in lots of malls and as well as the airports. You will be required to provide your passport, proof of address while in SA and a return ticket to make any exchanges.
South Africa has 11 official languages. The most commonly spoken in Cape Town are Xhosa, Afrikaans and English. There are some great local phrases you can learn easily before coming to SA. Visit the Pink Pangea's website here.
The Good Things Guy blog has given a great break down of the terms South Africans use to explain time here.
When you visit SA there are a few local customs you may not be used to but it might be a good idea for you to know them.
When you go to a restaurant, we always tip our waiter/waitron. The standard tip value is 10% but you can of course offer anything higher than that. Make sure you check your slip before tipping as some restaurants will automatically add a 10% tip to a bill especially if you are a large group. Uber has also launched a tipping option.
In SA we have car guards. This may seem a bit odd to most foreigners but they're good to have around and a lot of them are very helpful. They will assist with carrying shopping, packing your car and may even be so polite as to open your car door for you. Generally a tip for a car guard is about R2. If you are staying a really long time, it is normal to give a R5 tip. Some car guards are also happy to accept left-over meals as payment. Tipping car guards is completely at your discretion though.
In a lot of other countries it's normal to fill up your own car at the petrol station. In SA, we have great attendants who will do this for you. These guys will also wash your windows, check your oil and tyres. Tipping is again at your discretion but it is normal to give them at least a R5 for filling up your car with petrol.
Information specific to Cape Town
Nox Rentals offers a range of apartments and Villas along the Cape Town Atlantic Seaboard. The areas included are Camps Bay, Sea Point and the City Bowl. We have properties ranging from 1 bedroom up to 9 bedrooms. Whether you are looking for something family friendly, budget conscious or a 5 star luxury rental, we can help you find your perfect holiday property.
If you would like to enquire about any of our rentals, please contact our reservations team at info@noxrentals.com.
There are a few ways for getting around Cape Town. Two of the most popular options which are safe and budget conscious are Uber and the MyCiti bus. You can use either of these means to get anywhere in Cape Town.
Our guest services team can also assist with contact details for car hire companies and tour operators to arrange any trips. If you are interested in these additional services, you are welcome to contact the team at support@noxrentals.co.za.
Cape Town is generally a safe city to visit. As with visiting any city or country, it is always important to be aware of your surroundings. We don't suggest walking alone at night or accepting lifts from people you do not know. When walking around in town, keep your bags close and rather keep things in your front pockets.
Cape Town is known for having all four seasons in one day. In Summer we have lovely hot days where temperatures can reach up to 40'C and in Winter our low temperatures can drop to 0'C. One thing to remember is Cape Town gets some strong winds. We have a great article you can read about the different times to visit the Cape.
For the past year Cape town and surrounding areas have been faced with a water shortage. Fortunately, it has not been as bad a predicted. At the moment Cape Town is business as usual but we do ask all visitors to be mindful of their water use while visiting. If you would like to read more information about the water shortage and how it may affect your stay, read our blog post.
Cape Town has so many incredible sights to see. It's a good idea to have an itinerary planned for your holiday to be sure you don't miss out on anything. Below is a list of places and activities we think every visitor should see and do:
Table Mountain
Signal Hill
Boulders beach
Lions head hike
Robben Island
Kirstenbosch
Zeitz MOCAA Museum
Chapmans Peak
Seal Island
Cape Point
If you are looking to do things that may not be the top sights in Cape Town, visit our blog for for great ideas for restaurants, markets and Hidden Gems to see.
Ready to start planning your trip? Find the answers to your travel-related questions in our handy, one-stop Cape Town holiday planning hub – complete with info-packed guides and resources that will make planning your visit a breeze.