Clifton – Let go in Cape Town's luxury playground
Soft sandy beaches and stupendous sea views from the most luxurious properties are what you can expect from your holiday in Clifton.
Clifton is often referred to as the St Tropez of Cape Town and offers no less than four spectacular beaches where visitors can play. Isn't it high time you explore the high-end self-catering holiday rental choices within this lavish playground, renowned for hosting some of the globe's most coveted real estate?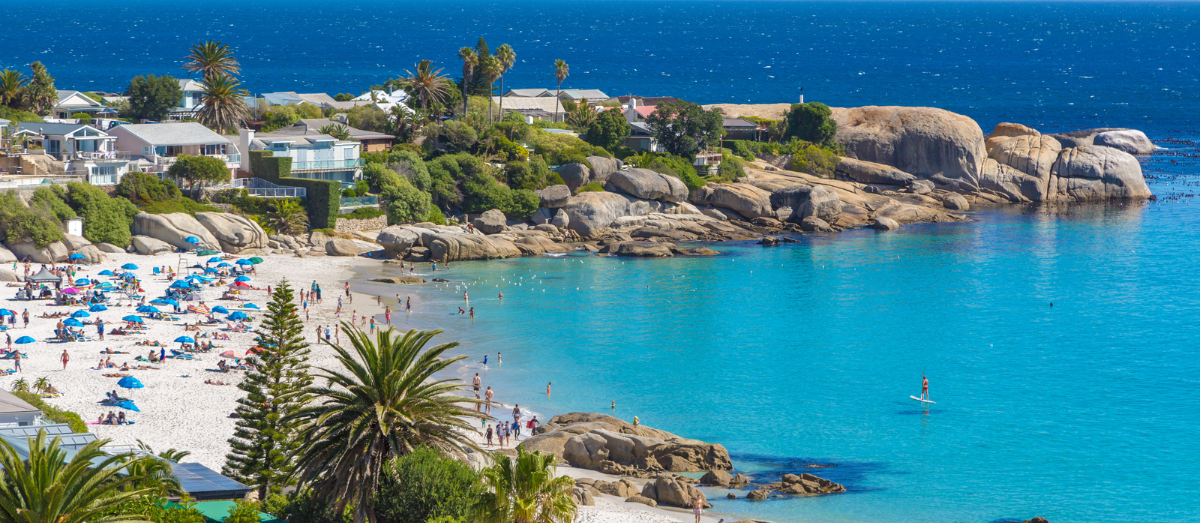 Your Holiday In Clifton
Clifton's exclusive residences nestle on the cliffs with sweeping views of the Atlantic Ocean. This affluent suburb is set between Bantry Bay and Camps Bay on Cape Town's Atlantic Seaboard.
The Discovery Travel Channel voted Clifton as one of the Top Ten Beaches in 2003 and 2004 and Fourth Beach enjoys blue flag status.
Luxury Accommodation In Clifton
Your luxury self-catering holiday accommodation in Clifton presents some of the most coveted properties worldwide, ensuring a truly spectacular experience.Your luxury self-catering holiday accommodation in Clifton presents some of the most coveted properties worldwide, ensuring a truly spectacular experience.
Self-Catering Apartments
Enjoy your well-earned getaway in a luxury self-catering holiday apartment in Clifton, from where you will have easy access to the beach but also to bars, restaurants, and a number of activities offered to holidaymakers in Cape Town.
Self-Catering Villas
Truly, the pinnacle of opulence is embodied in a luxury Clifton villa, where you'll be embraced by an unparalleled sense of lavish living that will redefine your holiday experience.
Things To Do In Clifton
Beach
Beauty is the key word on the playground that is Clifton: beautiful soft white sand, beautiful bronzed bodies, beautiful smiles, and a beautiful setting. Second and Third beaches cater to families and draw in the 20-somethings, as well as being a favorite among the LGBTQ+ community. Fourth Beach is the perfect family beach and has excellent facilities including public toilets, changing rooms, and places to buy cold drinks and snacks.
You can also rent umbrellas and deck chairs right on the beach. Lifeguards are on duty during peak seasons and on the weekends.
Sports
First Beach is the prime destination for the fitness enthusiasts. This beach holds a special place in the hearts of surfers and volleyball players alike.
Cruise
Book a trip on a yacht or catamaran (typically departing from the V&A Waterfront) and then soak in the scene as your vessel anchors in Clifton's turquoise waters.
Restaurants
While the suburb of Clifton really only has one restaurant, The Bungalow, which enjoys the most magnificent setting with panoramic ocean and mountain views, Camps Bay right next door has a lot to offer in the line of bars and restaurants.
Clifton Weather
Step into the captivating world of Clifton, where the weather becomes an exquisite backdrop to an array of possibilities. Here, you're invited to revel in the moments without a second thought about what's next. While each season brings its own allure, whether it's the sunlit embrace of summer or the tranquil charm of autumn, Clifton's enchantment remains constant. Embrace the warmth of long summer days with refreshing drinks by beachside haunts, or find solace in cozy indoor activities during Cape Town's winters. In Clifton, the weather paints the scene, but your adventures remain limitless, promising an experience that transcends the elements.
Visit Clifton Soon
Elevate your beach holiday in Clifton with our inviting self-catering accommodations. Enjoy breathtaking ocean views, relish a private terrace, and revel in the convenience of a fully equipped kitchen. Immerse yourself in Clifton's natural beauty and secure your spot for a personalized seaside escape that promises relaxation and freedom.
Ready to start planning your trip? Find the answers to your travel-related questions in our handy, one-stop – complete with info-packed guides and resources that will make planning your visit a breeze. Take a look here.
---
---