Day trips from Cape Town
Cape Town is a city with many tourist attractions and vacationers delight in the variety of exciting day trips available around Cape Town.

There are many interesting destinations within an easy drive from Cape Town. These excursions will enhance your experience while on holiday in South Africa.
If it's a beautiful day in Cape Town and you're wondering what to do, go day tripping!
You can rent a car and self-drive. Alternatively, join an organised tour for a carefree day trip.
When in Cape Town, it is a must to visit the nearby Cape Winelands. Envisage a landscape with dramatic mountains and valleys with vineyards. Historic farmsteads and warm wine tasting rooms. Old oak trees, streams and mountain trails. You will also find ultra-modern wineries with trendy restaurants. There are arts and crafts and delicious homemade treats.
The Cape Winelands is vast with many wine routes. Therefore, we recommend that you focus your day trip on one wine route. Remember, time flies when you are having fun on a farm. So do not attempt to do more than one area in a day. Relax and savour the tastes on your day trip to the Cape Winelands.
Cape Winelands in a nutshell:
Within a 45-minute drive of Cape Town, you will find the Stellenbosch, Somerset West, Franschhoek and Paarl wine routes.
Within an hour's drive of Cape Town, you can travel up the West Coast to
Darling, Malmesbury or Riebeek Kasteel.
Within an hour and a half or two of Cape Town, more options beckon. Towards the North East, visit the beautiful towns of Tulbagh and Ceres. East from Cape Town, Worcester, Robertson, Montague and McGregor are also wine country. Their differing terroir makes for interesting tasting comparisons. South-East of Cape Town, you will find Bot River, Elgin and Hermanus.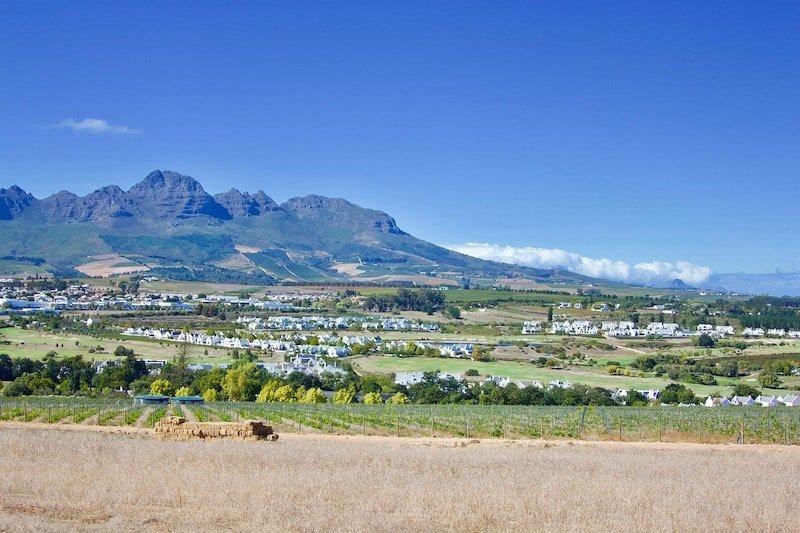 Stellenbosch in the Cape Winelands
The student town of Stellenbosch is famous for its award-winning vineyards. Taste the uniquely South African Pinotage cultivar at Kanonkop. Pay a visit to Delheim, Murati, Warwick and L'Avenir. Most of these wineries have picnic lunches on offer.
The historic Lanzerac is a worthy stop. If relaxing is more important than wine tasting, be sure to visit the Lanzerac Spa. Art lovers will enjoy the Dylan Lewis Sculpture Garden in Stellenbosch. Visit by appointment only.
One can spend a whole day at Spier Estate. Experience Eagle Encounters before enjoying a leisurely picnic lunch. Wine tasting and shopping are all on the cards at Spier. There is also a venue for open-air concerts. Watch an amazing production under the stars.
Stellenbosch's Route 44 Market on the Audacia wine farm provides additional entertainment on weekends. Nearby wineries include Annandale Wine Estate, Rust en Vrede, Waterford and Peter Falke.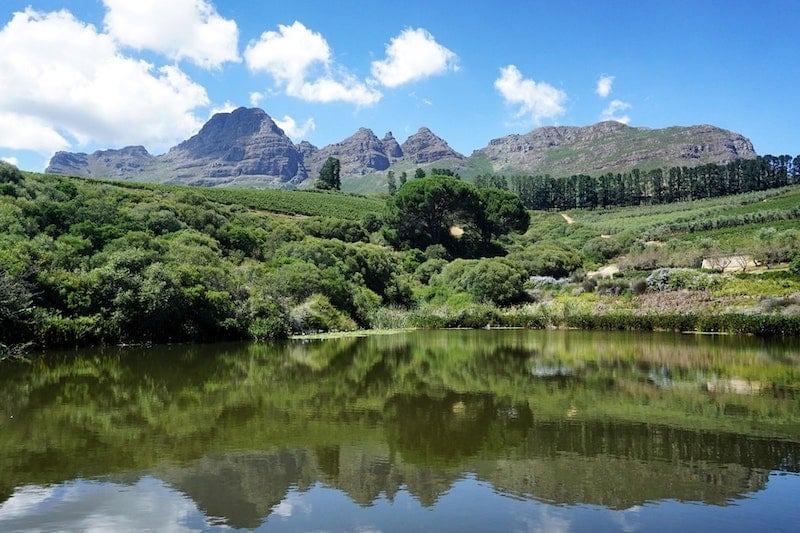 South Africa's gourmet capital has some of the best restaurants and award-winning wineries. The Franschhoek Wine Tram offers a fantastic way to explore different wine estates. Hop on and hop off where it suits you.
We recommend the Haute Cabriere Tasting Room and Grande Provence Heritage Wine Estate. Do a Garden & Art Tour of Leeu Estates and sample award-winning Mullineux & Leeu Family Wines.
Babylonstoren is a worthwhile stop. This historic Cape Dutch farm has an amazing 3,5-hectare garden to explore. There are restaurants, a shop and bakery, wine tasting and a spa too.
When leaving Franschhoek, stop on your way back to Cape Town at Dalewood Fromage. They produce artisanal and handcrafted cheese.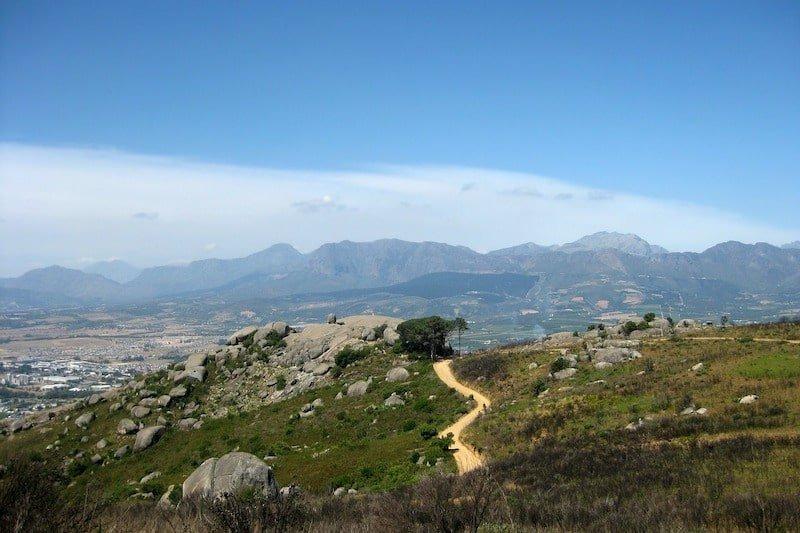 This charming Boland (which means, an area of high altitude) town still has vineyards along its main road. It is home to well-known historic wineries such as Laborie and Nederburg.
The KWV Wine Emporium is worth a visit for wine, brandies and fortified wines. Its famous Paarl Rock granite boulders host the Afrikaans Language Monument.
At Rhebokskloof, you can combine wine tasting with a horse or quad bike ride in the mountains.
Nearby Paarl, you will find a few of the fun things to do in Cape Town with kids:
Taste delicious goats milk cheese created on the Fairview Wine and Cheese farm.
Pop in next door at The Alpaca Loom to meet these cuddly camelids.
The Spice Route offers a day's worth of entertainment. There are a variety of eateries, a brewery, wine tasting, chocolatier and even a glassblower.
Finally, a safari day trip can include a visit to Drakenstein Lion Park. This authentic lion sanctuary gives visitors an opportunity to get close to the king of animals.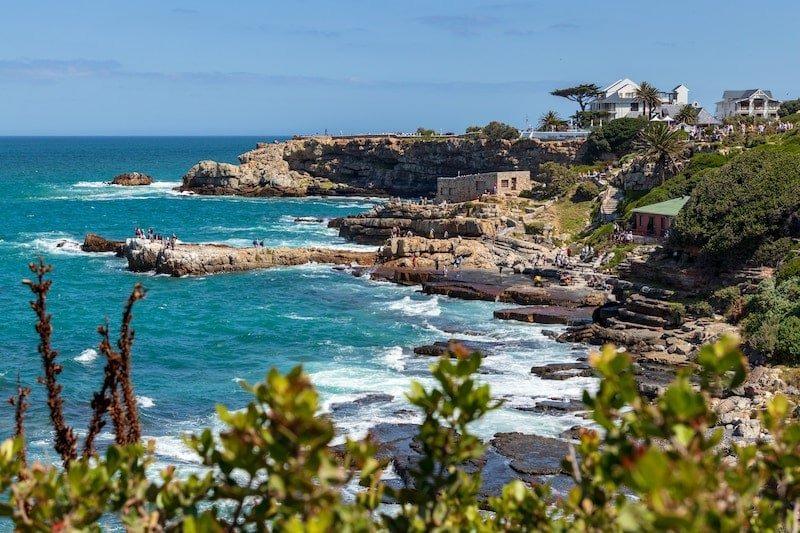 An early start to your day trip to Hermanus will pay off. It takes around two hours to get to the charming fishing village from Cape Town.
Drive along the N2 and travel over Sir Lowry's Pass. Enjoy breathtaking views of the Indian Ocean as you ascend.
You will proceed through Grabouw and Elgin, areas known for apple orchards. Pop in at the Peregrine farm stall for coffee and a bite en route. If apples are in season, they will be available fresh off the trees.
The Houwhoek farm stall further along the N2 is a great stop en route home. Pick up one of their famous, freshly baked chicken pies for an easy dinner.
As you turn off the N2 at Bot River, take note of the local wineries. Wildekrans, Paarden Kloof and Barton are on the road to Hermanus. You will also drive past Benguela Cove Lagoon Wine Estate.
Continue through Vermont to the Hemel-en-Aarde valley (translated to 'Heaven and Earth'). Stop at Hermanuspieterfontein winery, Whalehaven, Southern Right, Hamilton Russell Vineyards and Bouchard Finlayson Winery.
Hermanus has a wine tram called the Hermanus Wine Hoppers. Visitors can take the tram to tour the Hemel-en-Aarde Valley and discover wineries such as Spookfontein, Creation Wines and Newton Johnson.
If the coast is calling, the beautiful Voelklip beach is a great picnic spot. There are lawns around this sheltered beach. Whale watching is a major tourist attraction in Hermanus. You can watch from the shores, or get close to the giants of the ocean on a boat safari. Nearby Gans Bay offers shark cage diving.
The Hermanus Golf Club welcomes visitors to play 9 or 18 holes. Arabella Country Estate has one of South Africa's top ten golf courses. Non-golf playing travel partners can enjoy the day at the Arabella Spa.
Hikers will delight in the Fernkloof Nature Reserve's network of colour-coded hiking trails in Hermanus. The Reserve takes up 1 800 hectares in the Kleinrivier Mountains. These trails reveal stunning views of Walker Bay and the Hemel-en-Aarde Valley.
If you happen to be in Hermanus on a Saturday morning, pop in at the Hermanus Country Market. Here you will sample true South African treats such as 'melktert' (a South African sweet milky pie). Handmade cheeses and home-brewed beverages are available too.
Your safari day trip could also include a visit to the Panthera Africa Big Cat Sanctuary. This park is a 30-minute drive from Hermanus in Stanford. Here you will see lions, leopards, tigers, jackals and caracals.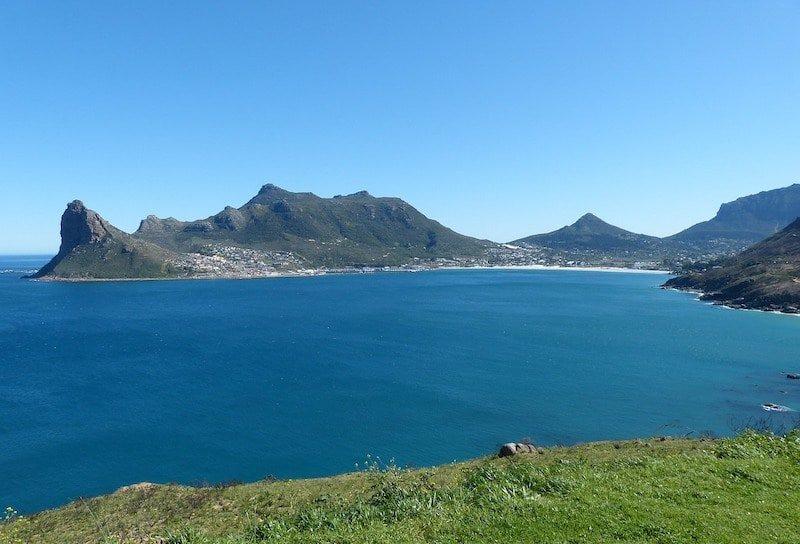 A holiday in Cape Town is not complete without visiting the Deep South. Book a day trip in a group online or go with a tour operator.
You will set off on your day trip to the Cape Peninsula from town. Drive to Camps Bay and then on to Hout Bay. You will take the scenic Chapman's Peak drive.
Your first stop can be Noordhoek, a rural village with a seven-kilometre long stretch of sandy white beach. The Noordhoek Farm Village is a great stop for a teatime treat and some interesting arts and crafts shopping.
From here, head over to Kommetjie – a small seaside village popular amongst surfers. On your way, you will pass Imhoff Village. This outdoors venue has restaurants, shops and a fun Higgeldy Piggeldy farmyard for the kids. Pre-book a beach horse ride for an unforgettable experience.
Your safari day trip will then take you through Scarborough to the Cape Point Nature Reserve. You can take a funicular to the restaurant for awesome views of the meeting point of the Atlantic and the Indian Ocean.
Continue around Cape Point until you reach Simon's Town. This is False Bay and the Indian Ocean. You have to visit Boulders' Beach. Here you will find a breeding colony of African Penguins. Following the boardwalk, one gets close to these interesting sea birds. Take a bathing suit along. There are gorgeous rock pools and small bays where you can swim with the penguins.
Simon's Town is a naval town with interesting museums and shops. The Scratch Patch has a glittering gem collection. Buy some souvenirs here.
Continue with the coastal road through Glencairn and Fish Hoek to Kalk Bay. This very interesting harbour town has excellent restaurants and bars. It also has some fascinating shops with curios, interior and fashion items.
As you head back to Cape Town, you will drive past the little surfer village of Muizenberg. You will pass the Constantia wine region. The drive will take you through Newlands, at the side of Table Mountain. This green suburb is home to Kirstenbosch National Botanical Gardens.
When you reach home, you would have made a full circle around the Cape Peninsula.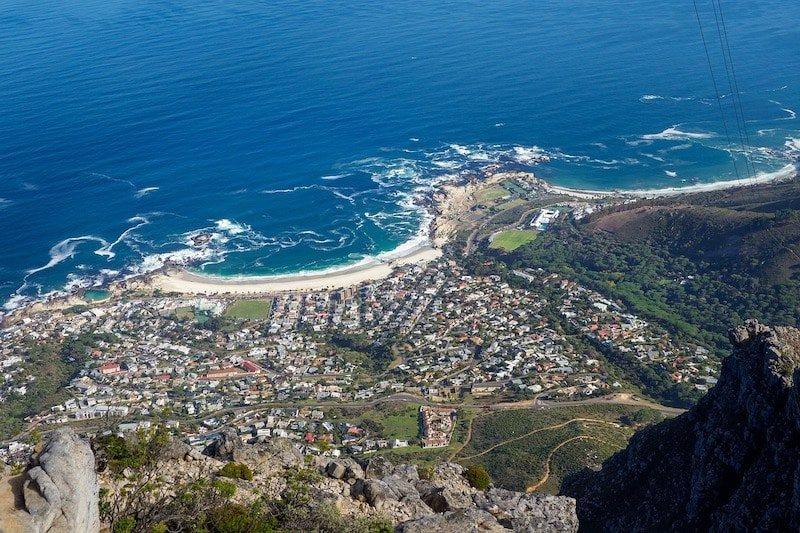 Planning is key to ensure you make the most of your fleeting holiday. A successful day trip depends on the quality of the excursions and time allowed for each activity.
Be realistic. If you want to experience an African wildlife safari, you can visit game farms in the Western Cape. However, these are within two to three hours' drive from Cape Town. The travelling time may put this out of reach for a comfortable day trip.
Rather opt for a safari day trip to the Cape Winelands. There are good sanctuaries and animal rehabilitation centres near Cape Town. You will get an opportunity here to experience South African fauna up close.
While the Garden Route is a spectacular area to visit, it is too far for a day trip from Cape Town, unfortunately.
Self-drive is a viable option. Remember to calculate travelling time while planning.
You can book online with a tour company. If you enlist the services of a tour guide, they will drive you or arrange transport by bus or shuttle.
City Sightseeing (the hop-on, hop-off bus) provides some good options for travelling around the Cape Peninsula.
Study the route maps and avoid packing in too much for one day.
A day trip gives you three hours before lunch. Then two hours for lunch. You will have another two hours after lunch.
If you want to get back to Cape Town before dark, you need to head back at around 4 or 5 pm in winter. In summer the days are much longer. You will enjoy daylight until around 7 pm. On a wine route, plan for an hour per winery.
If you are travelling to the Cape Winelands, do not plan on visiting more than four or a maximum of five wine farms. Earmark one of them for your lunch destination.
Choose your route sensibly so that your stops at the various sights take you in a logical direction. You can always return to Cape Town and revisit the places where you wanted to spend more time.
Use Google Maps to help you plan your day trip route with multiple destinations (learn how to do that here).
Book your day trips on the recommendation of reputable tour companies. Tour packages help visitors make the most of their sightseeing.
When taking an organised tour, verify what is included in the rates. Find out if you need to budget an additional amount for your excursions and meals. For instance, shark cage diving and horse or quad bike riding may not be included in the tour price.
When taking a day trip or tour with a travel guide, remember tour guides rely on tips.
The day tripper's dream destination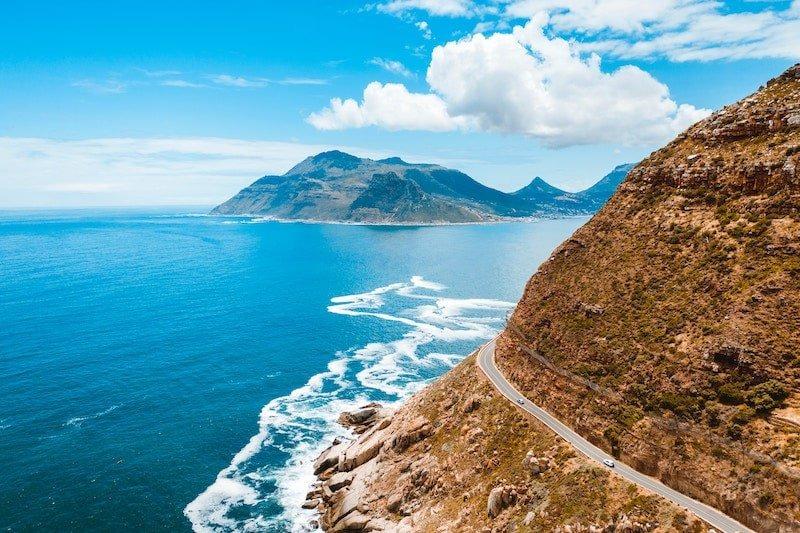 Cape Town is such a fun destination. You will never need to wonder what to do.
However, don't let sightseeing take over your entire trip. A rewarding vacation in Cape Town is all about enjoying the tourist attractions while setting aside enough time to relax.
If you're feeling lazy, get a professional's help to tailor-make tour packages for you. Let your hair down and enjoy the best day trips from Cape Town.
Browse our portfolio of luxury self-catering rentals in Camps Bay. Once you have settled into your holiday home, you can plan your day trips from Cape Town at leisure.